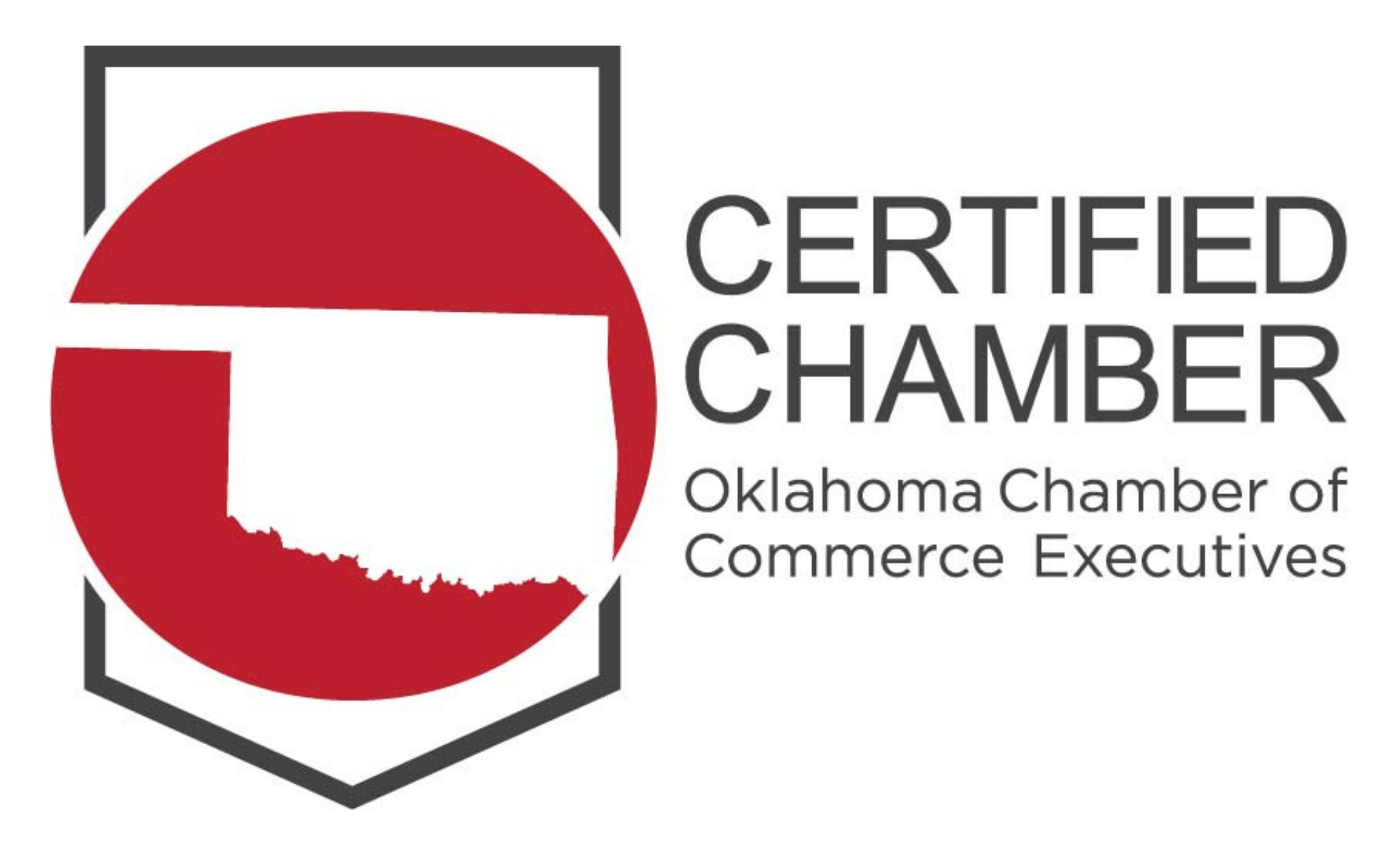 2023 Program Application Timelines:
June 2023………Want to Know More about the Program?  (Wednesday, June 14 @ 10am — zoom meeting)
June 30, 2023….Deadline of Notification of Intent to Apply (by email)
Sep 1, 2023……Deadline for application and supporting documents
Sep 5-8, 2023…Committee reviews applications and makes contact for clarifications
Oct 24, 2023…….Recognition at 2023 OCCE Annual Awards Banquet
Purpose:      
The Oklahoma Chamber of Commerce Executives' Certified Chamber Program is designed to establish standard organizational competencies as well as an objective set of criteria for assessment. An examining committee will be established annually to award accreditation credentials.
About the Program:
This program is voluntary and is open to any organization that is a member of Oklahoma Chamber of Commerce Executives.
Any chamber currently accredited through the US Chamber of Commerce's accreditation process is exempt from all application requirements except the application fee. Chambers requesting the application waiver shall submit proof of accreditation to the committee for review.
The program shall be reviewed annually to evaluate the appropriateness of the criteria and effectiveness of the program.
Why should a chamber become accredited?
Accreditation demonstrates the organization's commitment to industry standards and best practices as established by the state's only professional development organization for chambers of commerce.
Accreditation will benefit a chamber by:
Committing the chamber to meet standards established by the best collective wisdom of OCCE members
Increasing the organization's credibility in the community and the industry
Helping differentiate between organizational excellence standards met by accredited chambers and those that have not
Establishing industry best practices and providing goals and metrics for an organization to meet
Chambers that apply for accreditation will receive feedback from the committee, regardless of accreditation status, that can be used to improve the organization.
After Application
Approved chambers will be recognized at the OCCE Annual Conference and will be provided a certificate and a press release.
Chambers deemed "Suggested Improvement" will be issued a letter with specific suggestions that, if implemented, may result in an approved designation
Chambers that are not approved are encouraged to apply again. However, the application fee will be assessed again.