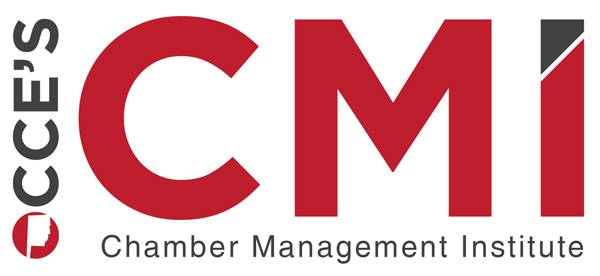 This annual training is for Executive Directors and staff.  If you are new to working in the Chamber profession, you'll want to take advantage of valuable Chamber training offered by the OCCE.  Developed by top executives in our state, Chamber Management Institute (CMI) is a credited training program geared toward the basics of running a non-profit organization. 
This year, the program will be held one day per month for three consecutive months with emphasis on giving insight into the roles and responsibilities of being a part of a successful Chamber of Commerce.  The attendee will receive all of the presentations and information electronically.  Lunch will be provided for each session.
After completing all three CMI sessions (see dates below) participants will receive a certificate of completion.  Graduates will be recognized during the OCCE Annual Awards Celebration, which will be held on Tuesday, October 24, 2023 at the Hilton Garden Inn, Edmond, OK.
2023 CMI Session Dates:
Thursday, August 31, 2023 | 9:00am – 3:00pm
Cushing Chamber of Commerce | 1301 E. Main Street, Cushing, OK 74023
***********
Thursday, September 28, 2023 | 9:00am – 3:00pm
Bixby Metro Chamber of Commerce | 112 W. Dawes Ave., Bixby, OK 74008
************
Monday, October 23, 2023 | 12:00pm – 4:00pm
Hilton Garden Inn Edmond/OKC North | 2833 Conference Drive, Edmond, OK 73034
REGISTRATION
$175 per person for OCCE members – 3 sessions, lunch (in-person only) and certificate of completion at graduation
$275 for non-members – 3 sessions, lunch (in-person only) and certificate of completion at graduation
Registration Deadline – Friday, August 18, 2023
SCHOLARSHIPS
Scholarships are available for CMI 2023.  Scholarships are for registration cost only.
Registration Deadline  – Friday, August 4, 2023
Session will be held at Cushing Chamber of Commerce
Everything Thing You Wanted to Know About Your Chamber but Were Afraid to Ask
An overview of the chamber of tomorrow and the role a chamber of commerce has in a community.  This session will outline your professional development opportunities, community partners, resources, and creating a network of peers.    Presented by Josh Driskel, IOM, Vice President of Operations and Government Affairs, Broken Arrow Chamber of Commerce
Creating Non-Dues Revenue
Membership accounts for less and less of the overall budget, so chambers are having to develop other sources of revenue.  In this session, you will learn different ways of creating revenue sources, showing appreciation to your sponsors to make them sponsor each year, and utilizing volunteers.  Presented by Lori Lewis, Membership & Community Development Senior Director, Broken Arrow Chamber of Commerce, and Brittany Timmons, President & CEO, Guthrie Chamber of Commerce
Managing the Finances of the Organization
This session will give an overview to understanding the finances of the organization.  You will learn accounting procedures, how to read a Statement of Financial Position, the budget process, internal controls and financial policies, reserve policy, using a CPA and should you do an audit, accounting software, etc. Presented by Mita Bates IOM, CCE
Representing Business Interests with Local Government
Understanding and developing an effective program to represent your businesses at the local and county levels.  This session will cover why chambers should be involved in city, state, county and school board elections, bond issues, endorsements, and other politics that influence the business community.  Presented by Scott Martin, President & CEO, Norman Chamber of Commerce
Session will be held at the Bixby Metro Chamber of Commerce
Board of Directors Development
Developing a board that is engaged is key to building the chamber's roadmap for success. This session cover what should be included in a board orientation, using an outside influencer, creating a leadership manual, board/staff roles, etc. Presented by Krystal Crockett IOM, President & CEO, Bixby Metro Chamber
Membership: Using Data to Measure Success
This session will relate to your inner geek!    This session will teach you to how to track and measure performance with data from understanding your annual retention rate, cost per member, to reporting the findings to your board.   Presented by Ruth Littlefield IOM, CCE, Chief Results Officer, Littlefield Management Solutions, LLC
Building Your Program of Work/Business Plan
This session will teach you how to get started on developing a road map for your chamber, holding a planning retreat, leading your board to the development of the plan, and measuring its success. Presented by Angela Wilson IOM, President & CEO, Greater Muskogee Area Chamber of Commerce
You Are Doing Economic Development
Gain a better understanding of the role that Chambers have in economic development.  Learn the value and relevance to your members and community with or without public or private funding.  Presented by Sara Herrin, President & CEO, Skiatook Chamber of Commerce
Challenges and Changes in the Chamber Industry – Ask the Experts
This session will be interactive and ask the tough questions – what is the future of membership organizations and resources?  Should you be concerned about political and social fragmentation and global impacts?   What leadership skills are needed to drive and lead your community, workforce, and your organization in the future?  
Session will be held at the Cherokee Casino – Tahlequah
Chamber Programs and Events
How do you evaluate your events and programs?  Do you know when to "kill the sacred cow"?  Learn about event management, types of programs such as leadership programs, Young Professionals, and other innovative program ideas. Presented by Kristin King, Events & Program Manager, President/CEO, Edmond Area Chamber of Commerce
Telling Your Story and Building Your Brand
Discover ways your chamber can better tell the story of how it is the driving force behind your community's successes, working with media, promoting your members, digital and social media, what should be included on your website, newsletters, software, and technology and staying on top of communications trends and best practices. Presented by Josh Driskel, IOM, Vice President of Operations and Government Affairs, Broken Arrow Chamber of Commerce