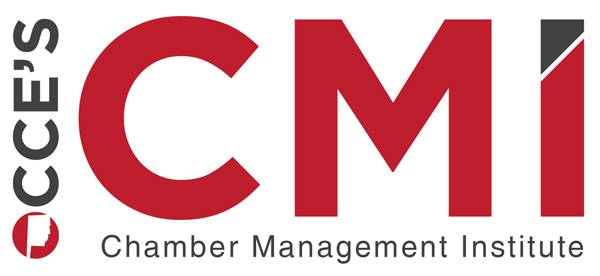 2021 CMI Session Dates:
Tuesday, August 3, 2021 | 9:00am – 3:00pm
Jenks Chamber of Commerce | 115 S. 1st Street, Jenks, OK 74037
***********
Tuesday, September 14, 2021 | 9:00am – 3:00pm
The Forum| 10 W. Main Street, Yukon, OK 73099
************
Tuesday, October 5, 2021 | 9:00am – 3:00pm
Edmond Chamber of Commerce | 825 E. 2nd Street, Edmond, OK 73034
************
Wednesday, October 27, 2021 | 1:00pm – 4:00pm
Hilton Garden Inn | 205 SW Frank Phillips Blvd, Bartlesville, OK 74003
This annual training is for Executive Directors and staff.  If you are new to working in the Chamber profession, you'll want to take advantage of valuable Chamber training offered by the OCCE.  Developed by top executives in our state, Chamber Management Institute (CMI) is a credited training program geared toward the basics of running a non-profit organization. 
This program is held one day per month for four consecutive months with emphasis on giving insight into the roles and responsibilities of being a part of a successful Chamber of Commerce.  The attendee will receive all of the presentations and information electronically.
The 2021 CMI sessions will be a hybrid format (in-person and Zoom meeting).   We are excited to have speakers from all over the U.S. joining us this year.  Session descriptions and presenters are at the bottom of this page.
After completing all four CMI sessions (see dates below) participants will receive a certificate of completion.  Graduates will be recognized during the OCCE Annual Conference Graduation and Awards banquet, which will be held on Thursday, October 28, 2021 at the Hilton Garden Inn, Bartlesville, OK.
Registration (In-person and Hybrid)
$175 per person for OCCE members – 4 sessions, lunch (in-person only) and certificate of completion at graduation
$275 for non-members – 4 sessions, lunch (in-person only) and certificate of completion at graduation
Registration Deadline  Monday, July 26, 2021
What is a Chamber?  
An overview of the role of a chamber of commerce in a community, including ways the chamber can be a force for change.
Josh Driskell, President/CEO, Jenks Chamber of Commerce
Community Development
Build a community where people want to live, and they will want to visit.  This session will explore how OKC developed the MAPS program that infused public funding for downtown and river development that has resulted in multi-million dollars of private development.
Presented by Roy Williams, President/CEO, Greater OKC Chamber
 Creating Your Chamber's Business/Strategic Plan
A chamber's strategic plan acts as the guide for the chamber's activities during the year (or longer). This session covers the steps necessary to create, implement, and evaluate your chamber's plan.
Presented by Megan Lucas, President/CEO, Lynchburg VA Regional Business Alliance
Using Data to Measure Success
This session will relate to your inner geek!    This session will cover benchmarking, calculating retention rates, business attrition and prospective members, census and education data, and other types of relative data you need.
Presented by Ruth Littlefield, Chief Results Officer, Littlefield Management Solutions, LLC
Operations: Board Development and Responsibilities, Budgets and Financials
Keys to developing a board that is engaged and builds strategy for your chamber by planning for the future along with understanding the financial health of the organization. This session will also cover what should be included in a board orientation and board manual, tips for developing an effective budget, how to manage it as well as the ins and outs of financial statements.
Presented by Mita Bates, President/CEO, Ardmore Chamber of Commerce
Fundamentals of Membership 
Discover proven ways to develop effective membership recruitment and to increase your chamber's membership.
Presented by: 
Jason Stephens, Business Development Manager, Broken Arrow Chamber of Commerce
Jennifer Alexander, Membership Sales and Retention Manager, Edmond Area Chamber of Commerce
Membership Retention
Now, more than ever, chambers are having re-evaluate their retention plans and programs in the "new normal".  Learn how to build and implement a proactive retention plan.
Presented by Judy Williams, Member Services and Retention, Bartlesville Regional Chamber of Commerce
Non-Dues Revenue in the New Normal
Programs and events require resources of money, staff, and volunteers.  Chambers area having to reinvent how they are doing community events, luncheons, and networking events.  Learn about virtual sponsorships and other revenue sources.
Presented by Jaime Henning, President/CEO, Greeley (CO) Area Chamber of Commerce
Economic Development Essentials & Business Retention & Expansion
Learn best practices and discover tools to assist your chamber in growing your community's economy. Uncover ways your chamber is already engaged in economic development.
Presented by Andrea Sitzes, President/CEO, Show Me Christian County MO
You Are Doing Economic Development
Gain a better understanding of the role that Chambers have in economic development.  How it's done with no funding and the value and relevance to your members and community.
Presented by Krystal Crockett, President/CEO, Bixby Metro Chamber of Commerce
Representing Business Interests with Local Government
Keys to understanding and developing an effective program to represent your businesses at the local and county levels.  This session will cover school boards, bond issues, endorsements, and other politics that influences the chamber daily.
Presented by Scott Martin, President/CEO, Norman Chamber of Commerce
How to Build a Tourism Program
Everyone is a tourist first before visiting or moving to your community.  Gain knowledge on building a tourism program that makes people visit and live in your community.
Presented by:
Rich Cantillon, President/CEO, Ponca City Chamber & CVB
Jordyn Frazier, Executive Director, Johnston County Chamber of Commerce
Jodi Nash, Executive Director, Pawhuska Chamber of Commerce
Telling Your Story and Building Your Brand
Discover ways your chamber can better tell the story of how it is the driving force behind your community's successes, working with media, promoting your members, and staying on top of communications trends and best practices.
Presented by Josh Driskell, President/CEO, Jenks Chamber of Commerce
Jump Start / Re-Start – Creating Value and Relevance in Your Chamber
Relevance, value, ROI.  Hear from two executives who quickly identified and solved issues in their chambers.
Presented by: 
Jennifer Conway, President/CEO, Broken Arrow Chamber of Commerce
Barby Myers, President/CEO, Claremore Area Chamber of Commerce
Chamber Trends, Threats and Opportunities
This final session will be interactive and ask the tough questions  – What is the future of membership organizations and resources?  Should you be concerned about political and social fragmentation and global impacts?  Will your chamber keep the changes that were made in 2020?  What leadership skills are needed to drive and lead your community, workforce and your organization in the future?