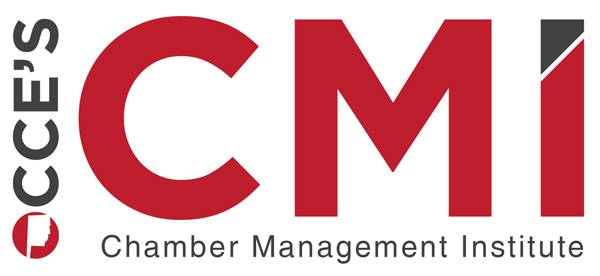 This annual training is for Executive Directors and staff.  If you are new to working in the Chamber profession, you'll want to take advantage of valuable Chamber training offered by the OCCE.  Developed by top executives in our state, Chamber Management Institute (CMI) is a credited training program geared toward the basics of running a non-profit organization. 
This year, the program will be held one day per month for three consecutive months with emphasis on giving insight into the roles and responsibilities of being a part of a successful Chamber of Commerce.  The attendee will receive all of the presentations and information electronically.  Lunch will be provided for each session.  
After completing all four CMI sessions (see dates below) participants will receive a certificate of completion.  Graduates will be recognized during the OCCE Annual Awards Celebration, which will be held on Thursday, October 20, 2022 at the Cherokee Casino, Tahlequah, OK.
2022 CMI Session Dates:
Tuesday, August 2, 2022 | 9:00am – 3:00pm
Moore Chamber of Commerce | 305 W. Main Street | Moore, OK 73160
***********
Tuesday, September 13, 2022 | 9:00am – 3:00pm
The Good Fight Church | 500 E. Main St.| Yukon, OK 73099
************
Wednesday, October 19, 2022 | 12:00pm – 4:00pm
Cherokee Casino | , Tahlequah, OK
REGISTRATION
$175 per person for OCCE members – 3 sessions, lunch (in-person only) and certificate of completion at graduation
$275 for non-members – 3 sessions, lunch (in-person only) and certificate of completion at graduation
Registration Deadline  Monday, July 25, 2022
SCHOLARSHIPS
Scholarships are available for CMI 2022.  Scholarships are for registration cost only.
Registration Deadline  Friday, July 8, 2022
Session will be held at Moore Chamber of Commerce
Chamber Operations and Governing Documents
An overview of the chamber of tomorrow and the role a chamber of commerce has in a community including efficient chamber operations should run, IRS/State requirements, governing documents, minutes, bylaws and policies.
Josh Driskell IOM, President/CEO, Jenks Chamber of Commerce
Raising Revenue
Programs and events require resources of money, staff, and volunteers.   In this session, you will learn creating and fulfilling sponsorships, showing appreciation to your sponsors that makes them sponsor each year, and types of  other revenue sources.
Presented by Rachael Melot, President/CEO, Shawnee Forward
Managing the Finances of the Organization
This session will give an overview to understanding the finances of the organization.  You will learn accounting procedures, how to read a Statement of Financial Position, the budget process, internal controls and financial policies, reserve policy, using a CPA and should you do an audit, accounting software, etc.
Presented by Mita Bates IOM, CCE
Representing Business Interests with Local Government
Keys to understanding and developing an effective program to represent your businesses at the local and county levels.  This session will cover school boards, bond issues, endorsements, and other politics that influences the chamber daily.  Learn about effective government affairs programs, building relationships with local, county & state elected officials,  IRS limitations for a 501c6, etc.
Presented by Scott Martin, President/CEO, Norman Chamber of Commerce
Session will be held at the Yukon Chamber of Commerce
Managing the Board of Directors and Volunteers
Keys to developing a board that is engaged is key to building the chamber's roadmap for success. This session cover what should be included in a board orientation, using an outside influencer, creating a leadership manual,  board/staff roles, board responsibilities and commitments, and volunteer management.
Presented by Krystal Crockett IOM, President/CEO, Bixby Metro Chamber
Membership: Using Data to Measure Success
This session will relate to your inner geek!    This session will cover what should be included in a membership recruitment and retention plan, examples of showing appreciation to your members; membership software, how to cal, calculate retention rates, business attrition, benchmarking, etc.  and other types of relative data that you need to be tracking.
Presented by Ruth Littlefield IOM, CCE, Chief Results Officer, Littlefield Management Solutions, LLC
Chamber Programs and Events
How do you evaluate your events and programs?  Do you know when to "kill the sacred cow"?  Learn about event management, types of programs such as leadership programs and innovative program ideas.
Presented by Sherry Jordan IOM, President/CEO, Edmond Area Chamber of Commerce
Building Your Program of Work/Business Plan
This session will teach you how to get started on developing a road map for your chamber, holding a planning retreat, leading your board to the development of the plan, and measuring its success.
Presented by Angela Wilson, IOM, President/CEO, Greater Muskogee Area Chamber of Commerce
Session will be held at the Cherokee Casino – Tahlequah
Telling Your Story and Building Your Brand
Discover ways your chamber can better tell the story of how it is the driving force behind your community's successes, working with media, promoting your members, digital and social media, what should be included on your website, newletters, software and technology and staying on top of communications trends and best practices.
Presented by Jenks Chamber of Commerce
Chamber Trends, Threats and Opportunities
This final session will be interactive and ask the tough questions  – What is the future of membership organizations and resources?  Should you be concerned about political and social fragmentation and global impacts?  Will your chamber keep the changes that were made in 2020?  What leadership skills are needed to drive and lead your community, workforce and your organization in the future?