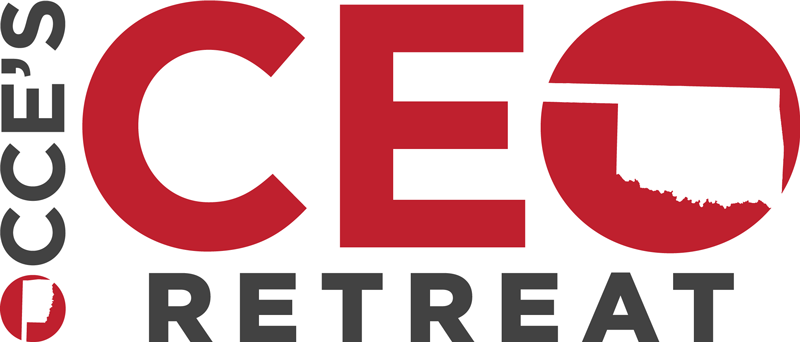 The CEO Retreat is a OCCE Executive Education Program designed EXCLUSIVELY for CEOs of local chambers of commerce.
As a chief paid executive, you know your company's success depends on you—and that means you've got to cultivate your knowledge, hone your leadership skills and understand what works in today's business environment. With forward-thinking speakers, peer-to-peer networking and in-depth discussions, the CEO Retreat will keep you at the forefront of industry leadership.
Retreat Objectives
Practical tips and techniques to improve your day-to-day business operations
Insights from industry peers to advance your chamber
Professional contacts to enhance the success of your company and your career
Innovative ideas to recharge you and motivate you and your employees
New solutions to grow your organization
2022 CEO RETREAT
Thursday, July 21 – Friday, July 22, 2022
PostOak Lodge and Retreat
5323 W. 31st St. N. | Tulsa, OK 74127

 OCCE has reserved a lodge that has 18 sleeping rooms with a common area
Reservations:  Call (918) 425-2112 | Group Name – OCCE
Cost = $105 (+ tax) for Thursday, July 21st
Check in time is 3:00pm | Check out is 11:00am
GROUP ROOM RATE ENDS MONDAY, JUNE 20TH
As a member of OCCE, there will be $50 cost to attend.  This includes Thursday night dinner, Friday breakfast and lunch, non-alcoholic drinks, and meeting room.  Room reservations are for Thursday and is paid by you. 
If only coming Friday, the cost is $40.  The fee will cover lunch, non-alcoholic drinks, and meeting room.
Registration options are for Thursday and Friday or Friday only.  Registration is required for planning.
AGENDA: Thursday, July 21st – come and relax; outdoor pool with outdoor seating; walking trails; networking in the guest room lodge to get to know each other better
Friday, July 22nd – Meeting in the main lodge starts at 9:00 am and will conclude by 3pm
Registration deadline is Friday, July 15th